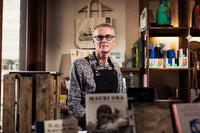 Best books of the moment, by Bruce
Our wonderful store manager and the gentleman of hospitality at our cafe  Addington Coffee Co-op, is Bruce. He is also well known  as an expert curator of books so save yourself the searching and browse his collection of great reads.
bruce's books
Usborne: Lift-the-Flap

Regular price

from $19.99

Body Keeps The Score

Aroha's Way Series

Regular price

from $22.99
" Every time you spend money - you cast a vote for the kind of world you want"
 Anna Lappe, sustainable food advocate.
"It isn't enough to look for quality in the products we buy, we must ensure there is quality in the lives of the people who make them"
Orsola de Castro, co-founder of the fashion revolution.