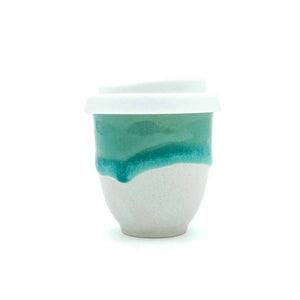 Pottery for the Planet fire these pieces in electric kilns using solar panels powered by the sun to produce Australia's first commercially available solar-fired ceramic travel cups.
All handmade ceramic and cups are handmade and one of a kind. There are no two the same. Variations in size, colour and markings is what makes them unique!  
Pottery For The Planet cups are made of ceramic and must be handled with care. Ceramic will crack if knocked or dropped.


Specifications are approximate because although we do our best to keep things uniform being handmade you can expect variations in size, weight, shape, texture, pattern and volume. 


Cups available in 6oz or 8oz.
Say hello to your new climate-friendly accessory!  This is a zero-emission product.