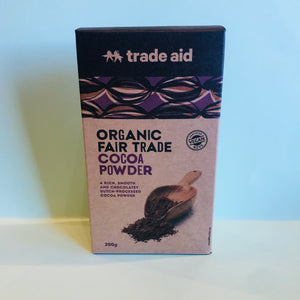 Let them eat cake – or baked cocoa  goodness of any kind – with Trade Aid's rich, mellow cocoa.  Free from anti-caking agents and alkalized for lower acidity, deeper colour and increased solubility – Chocolicious!
Milled from cocoa beans hand grown with care by our farming partners in the Dominican Republic and Peru.  Better for you, for farmers, and for the environment.
Certified organic, fair trade, gluten free & vegan friendly.