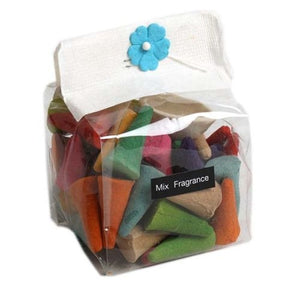 This pack contains 50 mixed fragrance incense cones. Handmade by artisans working with Y Development, one of our fair trade partners in Thailand.
Thai artisans organised in small associations or family enterprises in and around Chiang Mai, build their financial independence and skills through accessing fair trade markets supported by Y-Development. Developing successful businesses ensure artisans can move to self-reliance, and that rural producers can maintain their livelihoods in their communities, avoiding rural to urban migration.

Instructions for use: light the tip of the stick or cone. Gently extinguish the flame by blowing or fanning. The stick will glow and release a delicate fragrance. Place the unlit end in a suitable incense burner.
Caution:
keep out of reach of children.
Use only on an inflammable base or holder.
To avoid damage caused by ash, use a holder with an ash catcher. Burn in a ventilated area away from flammable objects and draughts.
Never leave burning incense unattended.
Ensure stick is extinguished before discarding.